Italian Serie A club Atalanta had Albanian player BeratDjimsiti to thank after they came from behind to beat Greek champions Olympiakos2-1 at home in the first leg of their Europa League playoff. Djimsitiscored twice for Atalanta to ensure that they will take an advantage to Greece in the second leg next week Thursday.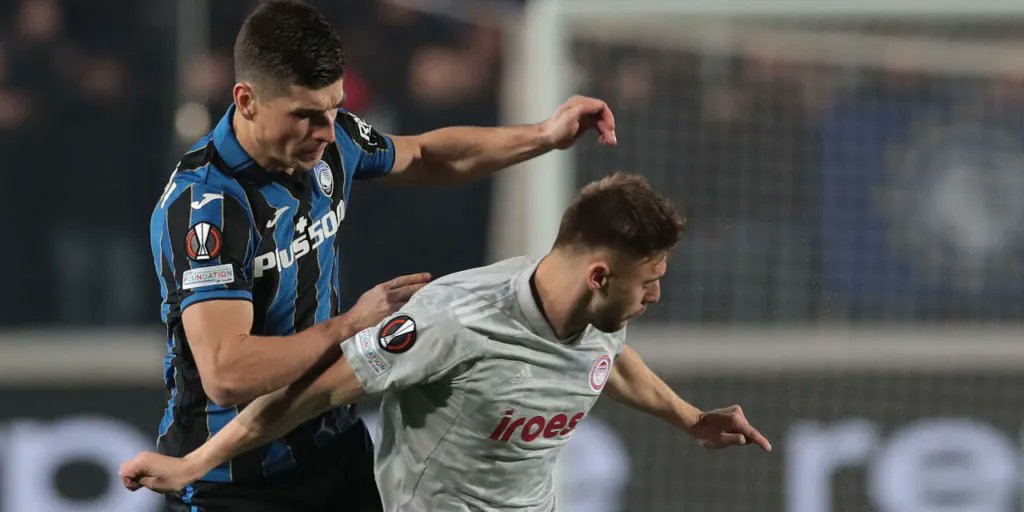 The Europa League knockout stage will take a new dimension as from this season with teams who dropped down from the Champions League drawn with the teams who finished second in their respective groups. Olympiakos finished their group stage campaign in the Europa League this season in second place and they were drawn with Atalanta in the draw for the playoffs. Atalanta finished third in Group F of this season's Champions League behind leaders Manchester United as  well as Spanish La Liga side and Europa League holders Villarreal.
Atalanta came into the Olympiakos game on the back of a poor run which saw them lose 3-2 at home to Fiorentina in the Coppa Italia quarterfinals and also drop out of the top-four spots in the Italian Serie A. In addition to their poor run, Atalanta were also missing a lot of first-team players for the visit of Olympiakosin Bergamo on Thursday night. Colombian striker Duvan Zapata, Slovenian forward Josip Ilicic, Jose Luis Palomino and Russian attacking midfielder AlekseiMiranchuk all missed the game against the Greek champions due to various injuries.
The Olympiakos side that faced Atalanta had three former Italian Serie A players including Greek national team star Kostas Manolaswho left Napoli at the start of this year. Manolas left Napoli to return to Greece after he lost his place at the heart of the defence.
Olympiakos took the league through Brazilian player Tiquinho in the first half before Atalanta responded with two quick-fire goals from Djimsitito take a lead to Athens later this month.