GiorgiosKaragounis has played an important role for the Greece national side as he made over 130 appearances for the national side which is more than any other player in the history of Greece.
The retired player was part of the Greece squad that won the 2004 Euro's and it's hard to deny the fact that Karagounis used to be one of the main figureheads and leaders of the national team during his playing career as he was the captain of Greece for a period of time.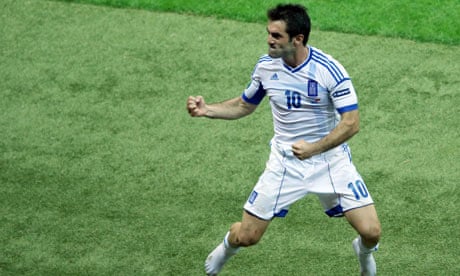 Greece was eliminated from the 2014 World Cup on June 29 as they faced off with Costa Rica and lost in the penalty-kicks, after this match was over GiorgiosKaragounis decided to retire from performing at the international stage.
Following his retirement from Greece, Karagounis opted to become the national team director of his country but the retired performer had his contract terminated after a string of disastrous results during Greece's journey through the 2016 Euro's qualifiers.
Sergio Markarian was the coach of Greece but he was fired from his position during the same time that GiorgosKaragounis was also dismissed from his director role and it's reported that both of them had ongoing issues and this was one of the main problems that led to Greece going through a string of negative results and ultimately the removal from both figures from their position in the national side.
"The most striking thing is that… since all of this first started I have kept seeing my professional dignity being tarnished in the media and nobody (from the EPO) has bothered to contact me to tell me anything," Karagounis told Sport FM.
"This is not consistent with my behavior over the years, especially towards the national team that I've served for 24 years. They should respect all these years that I've been involved.It's so bad to let rumors and heresy continue with so many lies being bandied about and nobody responding to them."GiorgosKragounis said as he dismissed rumors involving himself having problems with other members of the Greece national football team.